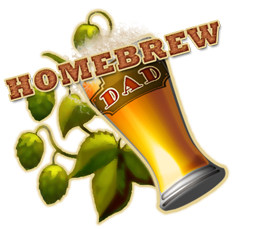 Olan Suddeth
Dad. Computer geek.
Homebrewer. Disney nut.
Would-be crafty guy.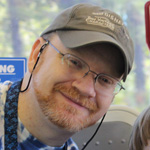 Support HomeBrew Dad
Amazon
Save Money
Ibotta
Fetch Rewards
(use code "116YB")
Please share this post!




My middle son, Jonah, is an inquisitive guy with quite a few interests; one of these interests happens to be the space program. Since he turned nine this year, I felt like he would be very interested in model rockets, and after being chilly to the idea to start with, he asked for one for his birthday.

The past Saturday, I helped him put it together. Now, Estes model rockets have been around for some time; I built several as a child, and I helped my oldest son, Caleb, build one some years ago. I will say that these have improved over the years, at least when it comes to the ease of construction. He and I put together this Taser rocket kit (which comes with the reusable launch pad and controller) in less than an hour.

The box claimed that the rocket could fly to a thousand feet up, but the fine print indicated that this depended on the model of engine that you chose; this time around, Donna and I went with the B6-4 engines, which were the mid range selection (and still supposedly yielded around 550 feet of altitude). The kit did also require some recovery wadding - aka fire retardant tissue designed to protect the parachute from being burned up.

The concept is pretty simple. You build this cardboard and plastic rocket, which includes a parachute. The solid fuel engine goes in the bottom, which you ignite electronically. It flies up, coasts for a moment, then fires an "ejection charge" which blows the nose cone of the rocket (which is attached with a long rubber cord) off. This deploys the parachute, and it floats back to earth, where you can recover it and repeat the process.

Once we had the rocket built, Jonah was dying to jump in the car and go fly it right then, but Noah was not feeling well (thanks, stomach flu that took turns infecting everyone but Elowyn in our house), so we pushed launch off to the next day (much to Jonah's chagrin).

We had the idea of me taking Noah, Jonah, and Silas (age 7) to the ballpark to launch Jonah's rocket, as well as to fly Noah's drone for the first time. Noah had received a pretty cool starter drone (the UDI U818A) for Christmas over a year ago, but our neighborhood is not a great place for flying due to the trees and such; it had never come out of the box. Jonah also owned a never flown Darth Vader drone by Air Hogs; all told, we hoped to have a lot of aerial fun.

When Sunday rolled around, Noah tried to talk us into letting him stay home so that he could play video games, but I wasn't having any of that. Everything was charged, the girls wanted to go too... so we loaded up the entire family and headed for the ballpark.

After judging the wind and relocating to a different field (I had been worried about the rocket blowing into the road, but the nearby trees seemed a bigger worry), we got Jonah set up. He gave his own version of a NASA countdown, and lo and behold - his rocket fired off beautifully. 550 feet turned out to be plenty, as it was all but invisible to the naked eye at the apex. The parachute deployed fine, though it did start to spin a bit on the way down, causing it to fall a bit harder than I thought it should.

Even though we had moved, it still almost made it to the tree line, but Jonah was able to recover it successfully. The cardboard tube had a small wrinkle, but otherwise, the rocket was perfect, so we loaded up another engine, moved a little farther back, and fired it off again.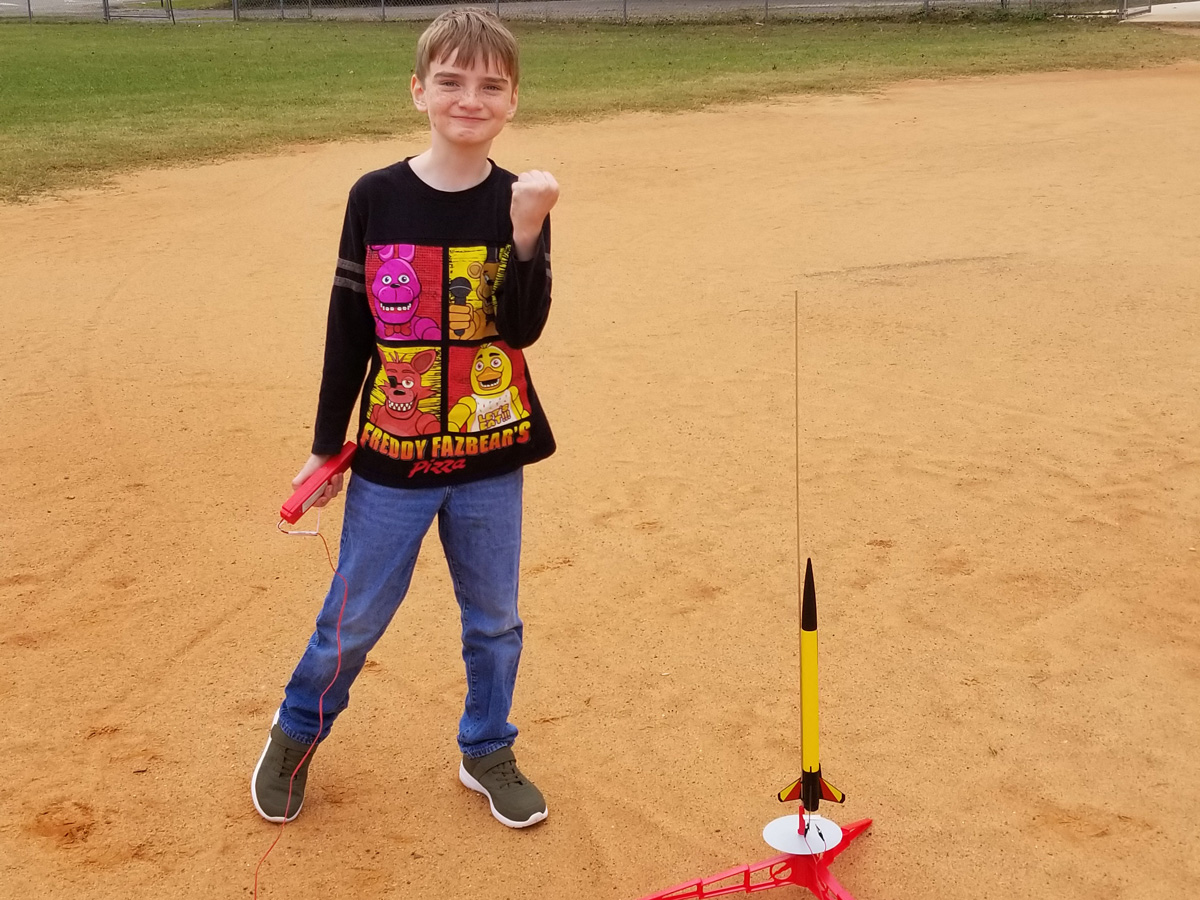 The right stuff, baby!

The second time was not quite as smooth; the parachute cords tangled that time, causing the chute to fail to open. It's a helpless feeling to watch your child's prized possession hurtle to the earth from that far up and hit the ground... hard. Fortunately, the rocket was pretty light weight; one of the fins snapped off, but was not actually broken. However, it would require glue to reattach, so the rocket part of our day was done.

Jonah was hardly disappointed; in fact, he was ecstatic. He was well aware that the real space program has been littered with malfunctions and setbacks; to him, it almost made it more "real". He had two successful launches and got his rocket back in flyable condition both times, and was now hooked on model rockets.


Behold, a rocket launch!
Noah moved to center stage now, and after a couple of false starts (and a crash or two), he was airborne. There is some skill necessary to fly a quadcopter style drone like this - even a beginner model - but it wasn't that tough to figure out, and soon enough, he had it under control enough to enjoy it. The breeze was a bit of an issue, but he would simply fly it into the adjoining field, set it down, bring it back, then fly it again.

Off it soars!
Meanwhile, we fired up Jonah's Darth Vader drone. With its foam body and airplane style propulsion, this one was a little more of a toy than a "serious" drone in my book, and it did have to be thrown to ensure a takeoff (we discovered this the hard way after watching it scoot across the infield dirt like some sort of strange bug). I don't know if it was trimmed a little strangely, or if Jonah just needed practice, but it basically flew in large circles - which was actually easier to deal with than Noah's quadcopter floating away on the breeze. Jonah had a blast with it, and even let Silas take a turn at the controls.

The Force was with him.

Noah burned through his first battery, swapped it out, and started tinkering with the camera on his drone. Jonah ran out of battery as Noah was really getting good at piloting his drone; he got to the point where he was making it turn better and dealing with the breeze easier.

And then, as his second battery ran low, Noah got a little cocky and let it get too close to the trees. Lo and behold, his drone ended up stuck in a branch some twenty five or so feet off the ground.

Luckily, there was a covered dumpster under the tree, and his quick thinking mother found a broken section of PVC pipe nearby. I climbed on top of the dumpster, and three throws of the pipe later, had knocked the drone out of the tree where it could be safely recovered (without damage).

When all was said and done, Noah was glad to have come along. Silas was now convinced that he needed a drone of his own for Christmas. And Jonah could not stop talking about the great time he had.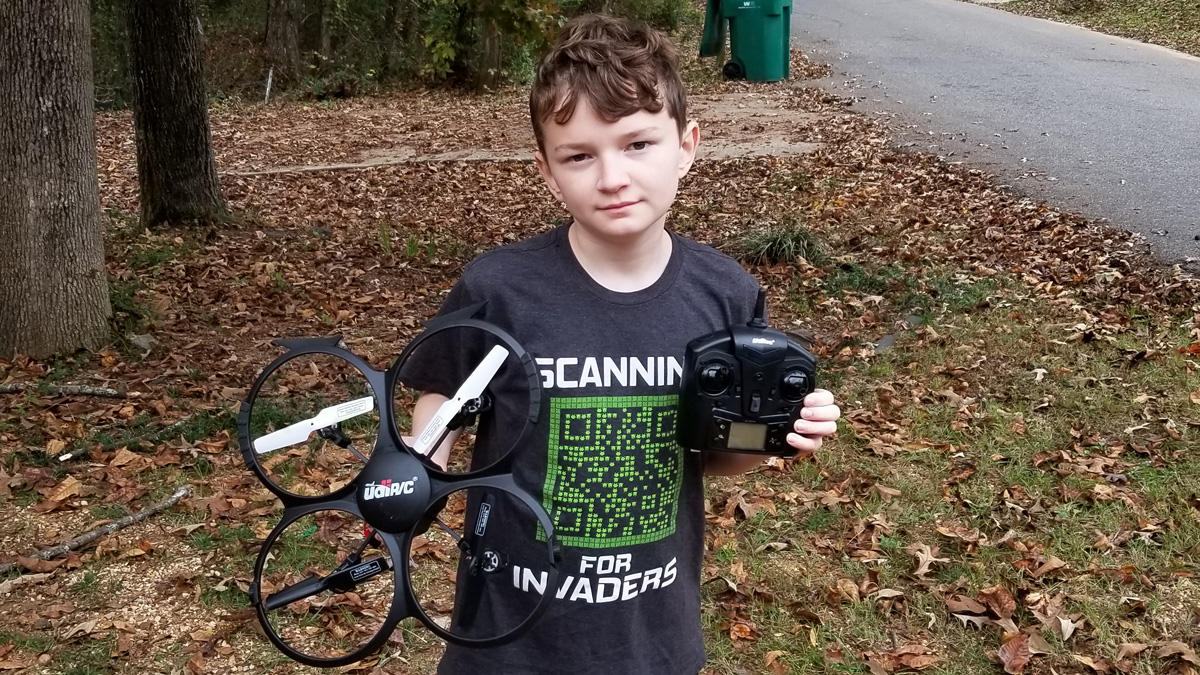 Too cool for all of this.
All in all, it was a great little outing.
Tags for this post: Family Life
Permalink
Please share this post!




If you enjoy HomeBrew Dad, please support the site by using my Amazon affiliate link when doing any shopping there. All prices are exactly the same, but HomeBrew Dad will receive a commission on your purchases. Thanks!
Comments for this Post