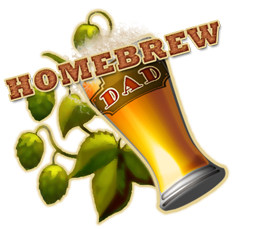 Olan Suddeth
Dad. Computer geek.
Homebrewer. Disney nut.
Would-be crafty guy.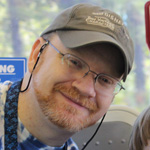 Support HomeBrew Dad
Amazon
Save Money
Ibotta
Fetch Rewards
(use code "116YB")
Please share this post!




A week or so ago, I was in the grocery store with my six year old, Silas. We were in the produce section, and he decided that he wanted a peach. In response, I grabbed a bag and put eight in there - one for him, and seven for one of my wife's absolute favorite desserts - homemade peach cobbler.

As I have mentioned before, my wife is the cook of our house. However, there are several items that are considered to be my specialties; peach cobbler happens to be one of those. To be fair, it's not at all difficult to make; anyone who can follow a simple recipe can make this one successfully. I'm pretty certain that she feels selfish spending much time or effort on a dish that she feels is more or less for her, though, which is why I have stepped up to be the Cobbler Guy in our house.

The full recipe for this delicious dessert is included at the bottom of this post. Feel free to skip down for it, but I figured that it would be fun for me to document the process of making the cobbler. For those who are interested... read on!

I started with seven white peaches claiming to be from Chile. This was my first experience with this particular variety; always before, I have used yellow peaches like we grow here in Alabama and Georgia. Aside from the flesh itself being a different color (whitish to brownish), I did notice that the flesh around the pits seemed to be more "gunky" than I was accustomed to.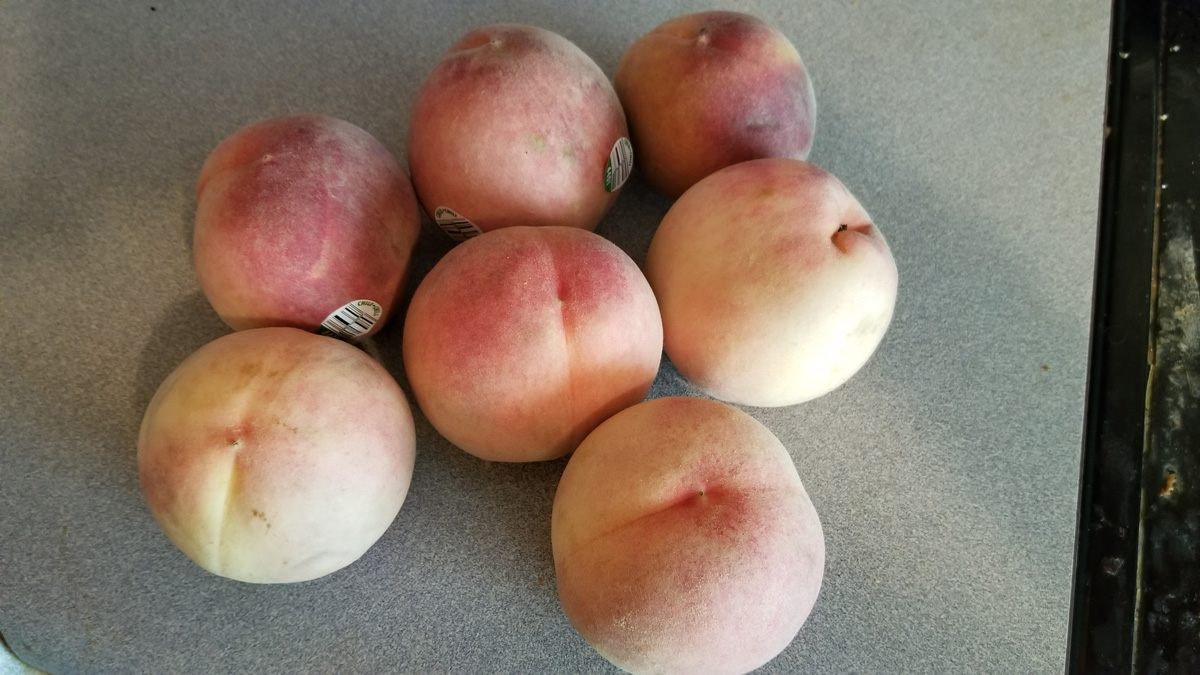 And so, it begins...

As per the recipe, I cut my peaches into slices and put them into a pot with a cup of sugar and a tablespoon of lemon juice. Technically, I got a little more than the required four cups of fruit, but I can't imagine anyone objecting to extra filling. I find that to be safe, you can figure on getting a little more than a half cup of usable slices per peach.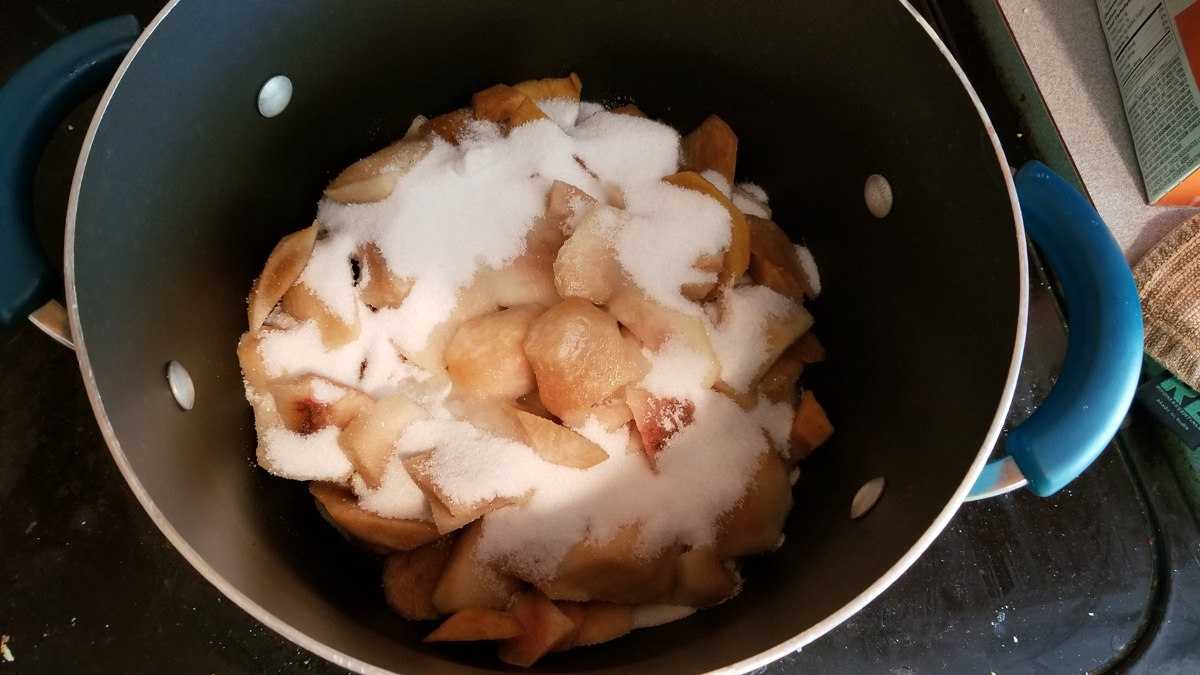 Peach slices, ready for boiling.

Next, I melted my stick butter in the microwave and dumped it into my baking dish. While I'm sure that you could use margarine or some other substitute, I'm a believer in the real thing when it comes to baking - so butter is what I use.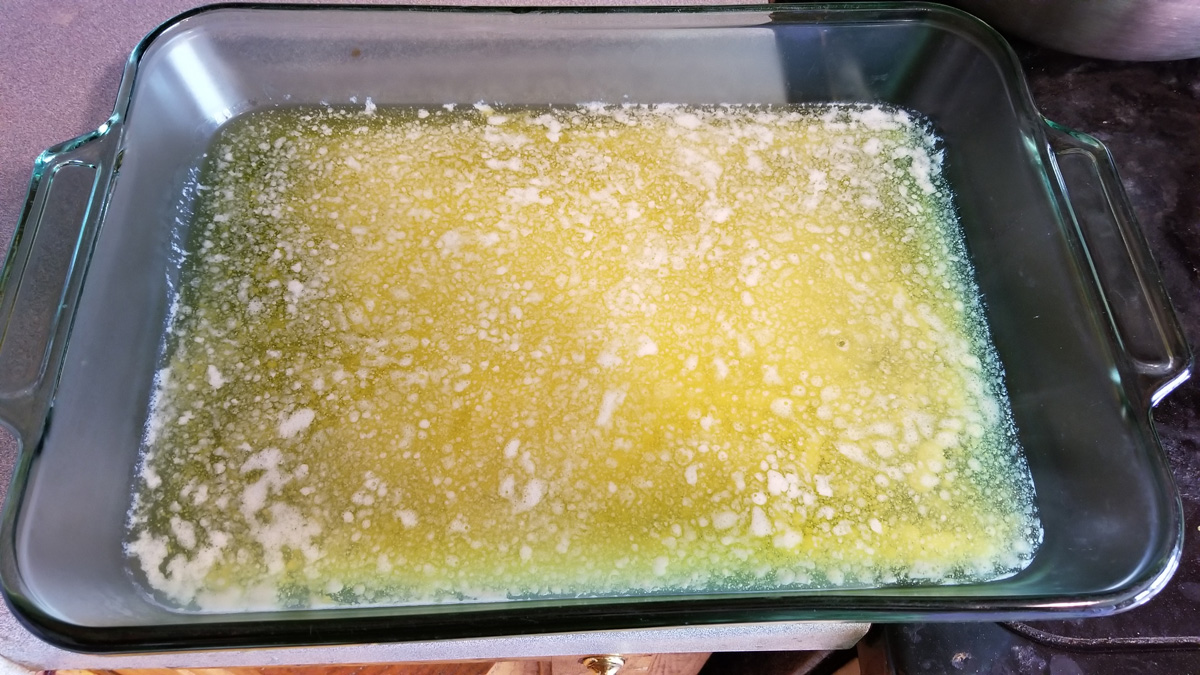 You know that it's going to be tasty if is uses real butter.

Mixing up the batter was the next step. You're not talking about anything complicated - flour, sugar, baking powder, and milk. Don't over stir; simply make sure that everything is moistened with your milk and uniformly mixed. Once this was done, I brought my peach slices to a boil and stirred them for a couple of minutes.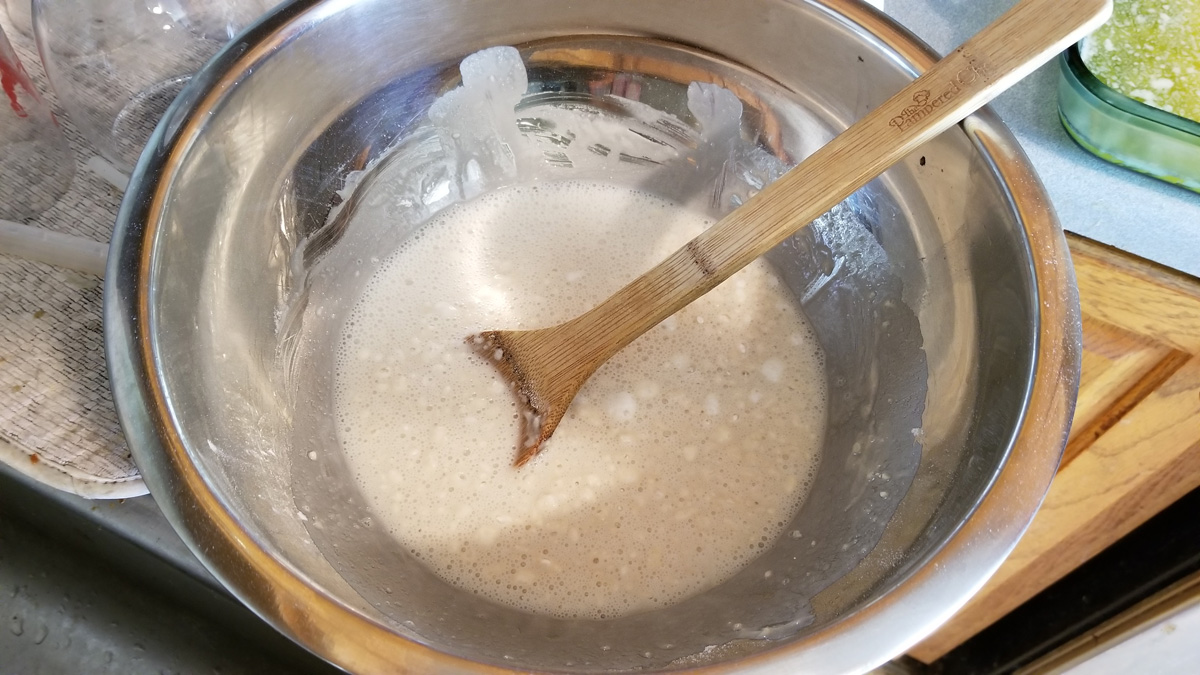 If you can use a measuring cup and a spoon, you can make this recipe.

One of the big advantages to making a cobbler over a pie with similar filling is simplicity. With a pie, you have a crust to worry about, and have to be careful to do everything just so. With a cobbler, you literally just dump your batter into the baking dish. If you feel like pouring it around a bit, that's fine; if you want to just dump it into one pile in the middle, it works great. Make sure to NOT stir the batter into your melted butter, as it will cause things to not turn out properly. Likewise, the exact amount of time that you boil your peach slices is not super important; a couple of minutes either way won't impact the final product at all.

Once the batter was dumped into the butter, it was time to dump my peach slices on top of it. As with the batter, stirring is a big no-no, so I left them piled up in the middle.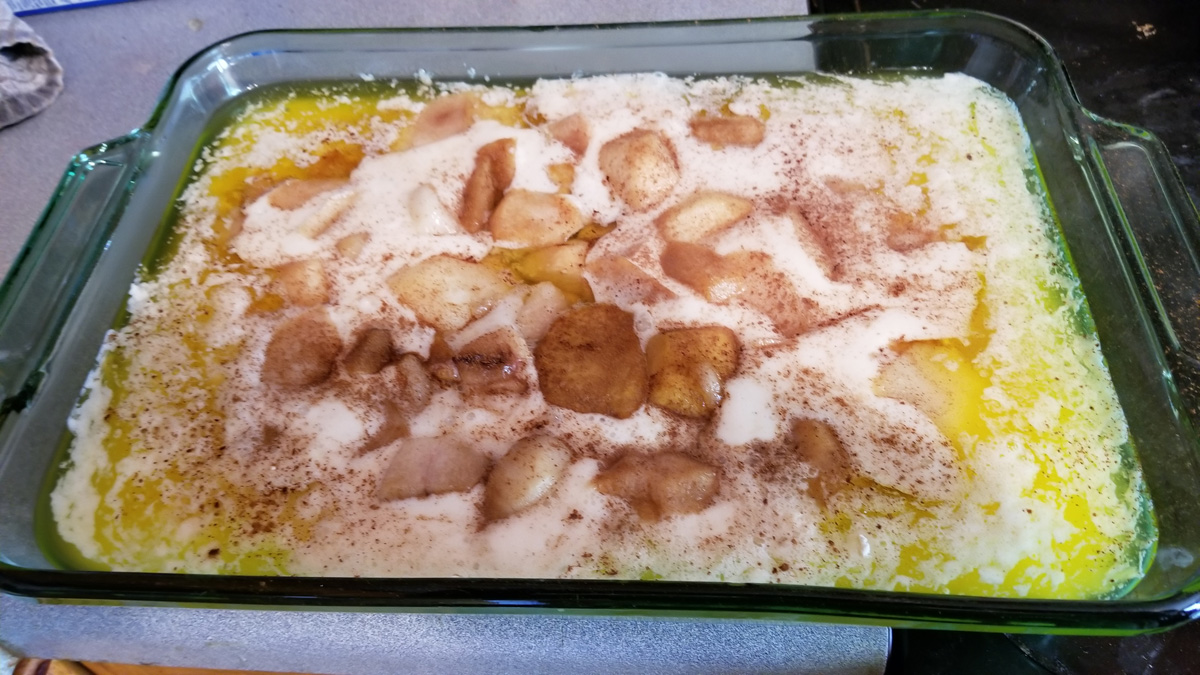 Ready to bake...

Hopefully, you weren't holding out for some complicated artistry; there was nothing left to do at this point but pop the cobbler into the over for forty minutes. Once it hit around twenty minutes, the smells started attracting people to the kitchen. Soon enough, it was ready.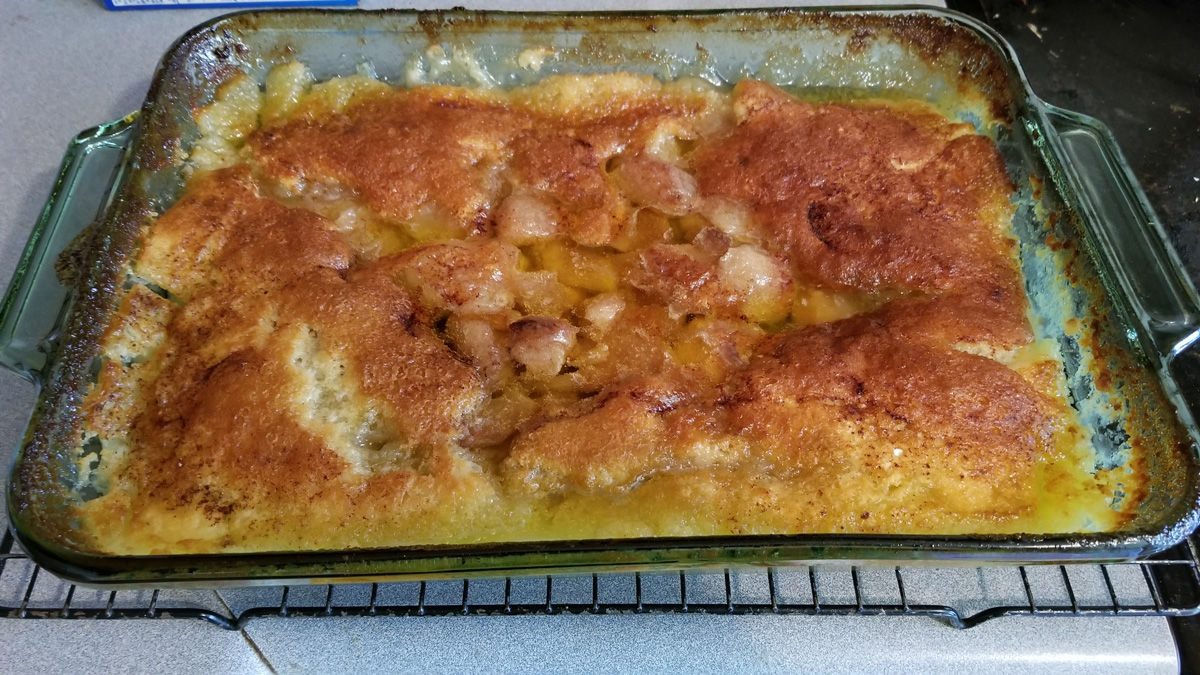 If you think that looks tasty... you're right.

Some folks choose to let their cobbler cool before they serve it. I'm a believer in spooning it up fresh and hot, with a scoop or two of vanilla ice cream on top.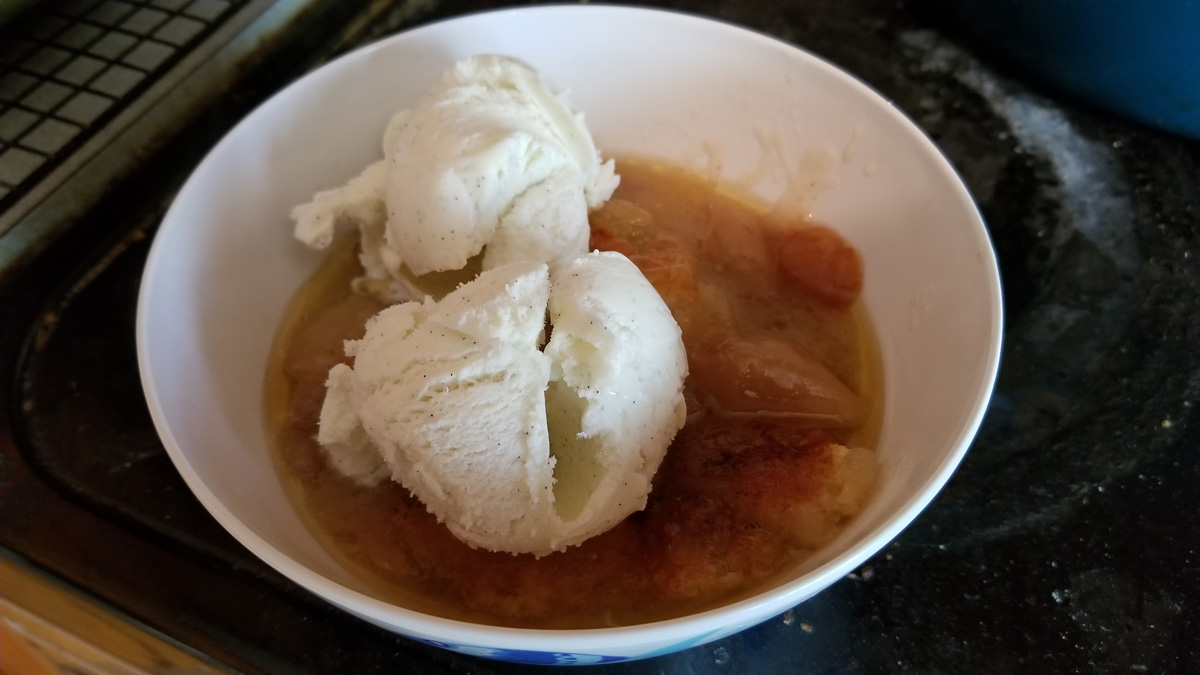 You know, the right way.

I will say that the white peaches didn't turn out quite as sweet as the yellow Southern peaches that I'm used to; in the future, I'll probably hold out for my familiar variety. Still, this dessert pretty much evaporated, much like it always does. At any rate, here is the actual recipe.


Easy Peach Cobbler
Ingredients
1/2 cup unsalted butter
1 cup all-purpose flour
2 cups sugar, divided
1 tablespoon baking powder
Pinch of salt
1 cup milk
4 cups peach slices
1 tablespoon lemon juice
ground cinnamon/nutmeg

Recipe Steps
Melt butter in a 13x9 inch baking dish
Combine flour, 1 cup sugar, baking powder, and salt with your milk. Stir only until the dry ingredients are completely moistened. Pour this batter over your melted butter - but do not stir it in.
Bring your remaining cup of sugar, peach slices, and lemon juice to a boil over high heat, stirring constantly. Cook for a minute or two, then pour over your batter. Again, do not stir!
Bake at 375 degrees F for 40-45 minutes, or until the cobbler is golden brown.


Full credit where credit is due - this is an old Southern Living recipe that you can surely find floating around the internet. It does, however, also live on in our recipe binder at home.
Tags for this post: Cooking, Recipes
Permalink
Please share this post!




If you enjoy HomeBrew Dad, please support the site by using my Amazon affiliate link when doing any shopping there. All prices are exactly the same, but HomeBrew Dad will receive a commission on your purchases. Thanks!
Comments for this Post