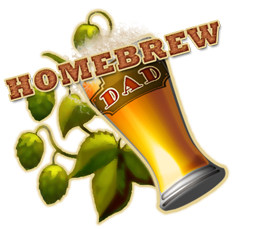 Olan Suddeth
Dad. Computer geek.
Homebrewer. Disney nut.
Would-be crafty guy.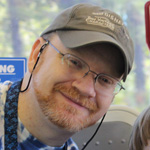 Support HomeBrew Dad
Amazon
Save Money
Ibotta
Fetch Rewards
(use code "116YB")
Please share this post!




This past weekend, I whipped up a batch of my chili, then put it into the crock pot to be ready for us after we did our wet outing to the Halloween event at Tannehill State Park. Now understand, Donna does the lion's share of cooking in our house, but I have a few specialties... and chili is one of them. I can guarantee that I will be asked to bring it to various family functions, I've been asked to bring it to work, I've won a couple of competitions with it. Yes, I'm a little proud of my chili... but I'm happy to share the recipe. Before I get into the recipe, I want to cover a few bases.
Yes, I understand that some people believe with religious fervor that "real" chili contains no beans. That's fine... but mine does; it has three kinds of beans, as a matter of fact. If that bothers you... well, this isn't the recipe for you.
This chili is rather spicy; I feel like if you don't get a bit of a runny nose when you eat it, then it's not hot enough. If you prefer for you chili to be milder, cut down on the peppers and the seasonings.
It should be known that I learned to cook from my mother, who does not believe in measurements unless they are absolutely vital; she is an old school, "pinch of this, dash of that" kind of cook. This was her base recipe, though I have changed and adapted it over the years (it is FAR spicier than she used to make it, I've added black beans and peppers along the way, etc).
Every single time that I cook my chili, I season it to taste... which means that the exact amount of pepper and such does vary. I'll give some wild approximations on seasoning in the ingredient list below, but you really should follow the "season to taste" methodology to ensure that you're happy with the end result. Realize, too, that red pepper tends to "bloom" a bit overnight, so reheated chili may be even spicier than the fresh batch.
Finally, not only do I have a large family, but again, I tend to cook chili for events. As such, I work off of the following recipe, which yields roughly six quarts of thick, hearty goodness (you can very nearly eat my chili with a fork). Feel free to cut the recipe in half if you don't have enough mouths to feed. Now then, enjoy HomeBrew Dad's Chili recipe!
Ingredients:
4 pounds ground beef
2 large onions
4 packs of French's Chilio seasoning mix
4-5 large jalapeno peppers
1-2 serrano pepper
3 cans of spicy chili beans
1 can of vegetarian baked beans
1 can of seasoned black beans
2 cans of sliced stewed tomatoes
3 cans of tomato sauce
1 tablespoon (?) red pepper flakes
1 teaspoon (?) ground red pepper
1 teaspoon (?) chili powder (Mexican chili powder is my favorite)
1/2 teaspoon (?) paprika
1/2 teaspoon (?) black pepper
Yes, I know that Chilio seasoning mix is basically just flour, chili powder, and paprika... with a small amount of other seasonings. I'm also aware that it's a quick and easy way to get a nice base for the chili. That flour provides some thickening, which (to me) is vital for really good chili.

Directions:
Dice the onion very fine (a food processor is your friend -
this little Ninja chopper
is an AMAZING, affordable tool!). Brown the ground beef with the onion. Drain the meat mixture and dump it into a large pot, the add the Chilio (one pack per pound of ground beef).
Dice your peppers very fine (again, I recommend a food processor) and add them to the mixture. I find that these fresh peppers give more of a rounded, "green" flavor that really plays well with the rest of the flavors. Be sure to mix everything well at this point.
Add your various canned goods. The vegetarian baked beans add a bit of sweetness that goes really gives a nice compliment to the spiciness. Add your red pepper, chili powder, and paprika... but leave these all out on the counter - you're going to probably want more as you go.
Stir everything up well. Using medium heat, bring the chili to a simmer, then reduce to medium low heat (keep it warm enough to periodically bubble). Simmer the chili low and slow - at least an hour, three is better. Be sure to stir often, as the dense mixture can scorch fairly easily at the bottom of your pot, and this will screw up the batch.
I personally break my tomatoes up into very small chunks as I stir. I also tend to taste fairly frequently, and add more pepper flakes very often - this is my dominant spice. However, I will add small amounts of ground red pepper, chili powder, and paprika. I'm not sure that I've ever added too much pepper.
I love to sprinkle a little shredded, EXTRA sharp cheddar on my chili when I serve it, but that may not be your thing. Donna also adds sour cream; others do crackers or whatnot.
Tags for this post: Cooking
Permalink
Please share this post!




If you enjoy HomeBrew Dad, please support the site by using my Amazon affiliate link when doing any shopping there. All prices are exactly the same, but HomeBrew Dad will receive a commission on your purchases. Thanks!
Comments for this Post