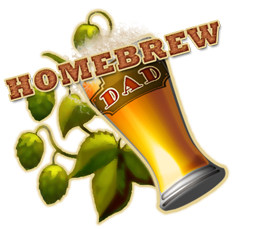 Olan Suddeth
Dad. Computer geek.
Homebrewer. Disney nut.
Would-be crafty guy.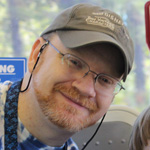 Support HomeBrew Dad
Amazon
Save Money
Ibotta
Fetch Rewards
(use code "116YB")
Please share this post!




I don't write much about brewing beer in this blog; I choose to focus on other subjects here and leave my brewing stuff to other channels (like my BrewUnited website). But the fact remains that I *am* HomeBrew Dad, and brewing is my biggest hobby... so every now and then, you get to hear about it. Today is one such time.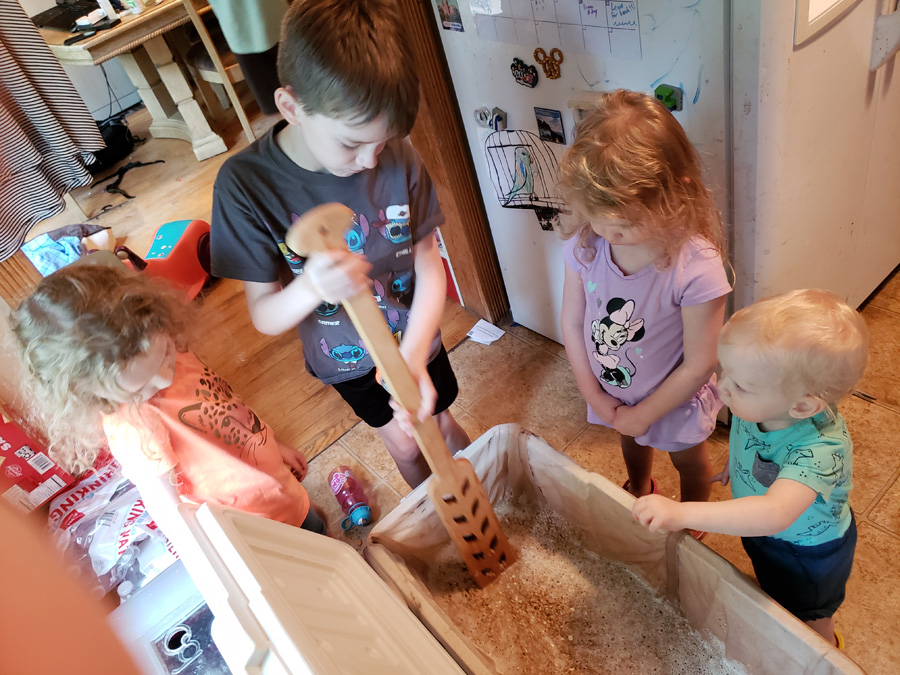 Silas, Wynter, Elowyn, and Gideon stir the mash for my Kentucky Common beer.
A year ago, Rob (a homebrewing buddy of mine) reached out after one of his other friends had backed out at the last minute. He had a tent at the Auburn Oktoberfest and needed someone to come and help him set up his gear, pour the beer, etc. I agreed, and ended up having a great time helping him out. In my experience, craft beer people tend to be super polite, friendly folks, and that definitely held true here. I left the festival that day thinking that I ought to reserve my own tent the following year... and when the time came, I did just that.

I won't lie, I looked forward to the event for pretty much the entire year, though at several points, I had serious doubts that I would make the festival this year.

While it is possible for one person to do everything, it's far from ideal. Admission includes a helper, as the festival organizers are well aware that it's really a two (or more) person job. Originally, I had planned to have Caleb, my adult son, come to help me... but his work schedule had him working every weekend, so that wouldn't work. I had a friend from a former job that I was sure would be a great fit... but he fell off the face of the earth for a couple of months due to working some incredibly long hours. My wife volunteered to come... but she is not a beer person to begin with, so I hated to have her burn an afternoon on something she wouldn't enjoy (to say nothing of burning a babysitter). Once I factored in that we still have an infant at home, and that she still has some serious complications related to her surgery earlier this year... her coming to help wasn't a reasonable solution.

I began to realize that while I have a lot of acquaintances, most of the people who I actually call "friend" are folks that I know online - the majority of which live in other states (or countries). Rob would be running his own tent again this year, so I couldn't ask him to help. Donna suggested that I ask her bestie, Jessica... but I felt really awkward doing that. How was that supposed to work? "Hey, you're my wife's friend, you want to come spend a whole day helping me do something that I don't really know if you would enjoy?" I got pretty bummed about the situation, and came very close to deciding to just skip the event, after all.

And then, Donna suggested that I reach out to Eric - my oldest friend in the world. Eric and I became friends way back in the second grade, stayed friends all the way through high school... but adulthood had seen us drift apart, and he and I haven't had much contact outside of Facebook in the last twenty years. I gave it a shot... and lo and behold, and was both available and interested. So, one major hurdle had been overcome.

The next big obstacle was lining up my brewing to coincide with the event; I was hoping to take three beers with me. Most of the time, I tend to brew once every month or two. The thing is, most beer is best when it is relatively fresh, so I would need to take that into consideration. But we were going to the beach at the beginning of September, we had a lot going on in various weekends I was going to have to really compress my typical brewing schedule to make it work... again, I began to wonder if I shouldn't just back out of this, maybe try again next year or whatever.

I had brewed a Märzen (the old school German Oktoberfest lager) back in June to be ready in the fall. I really hadn't planned to take it to Oktoberfest, but Donna pointed out that it was a great fit... so I had my first beer set.

The others I would want to be fresher. I ended up re-brewing two of the very best beers I had ever made in the past - I did an IPA in mid August, then a Kentucky Common at the end of the month. I have never brewed that much beer that close together; again, I need to thank my wife for being supportive and giving up the hours with me on the weekend needed for me to get these done.

Even so, I had to scramble to get everything done, to get the beers kegged in time, to get everything ready. The final week before the event saw me having a lot of trouble with the keg for the Kentucky Common - in fact, I didn't get it to properly accept and hold pressure until the night before the festival, which had me pretty convinced that it would be a flop.

I had some grand plans to take some signs with me featuring artwork for my beers; I have a friend in Texas who creates labels for all of my beers for me. But she had trouble getting her hands on all of the original art to blow it up (and let's be honest, she has her own life going on and such), so I did some improvising on that end. I did have some stickers to take with me (thanks again to Lori, said Texas friend, for that art!) and I brought a few of my older bottles to display on my table to show off some of the other art.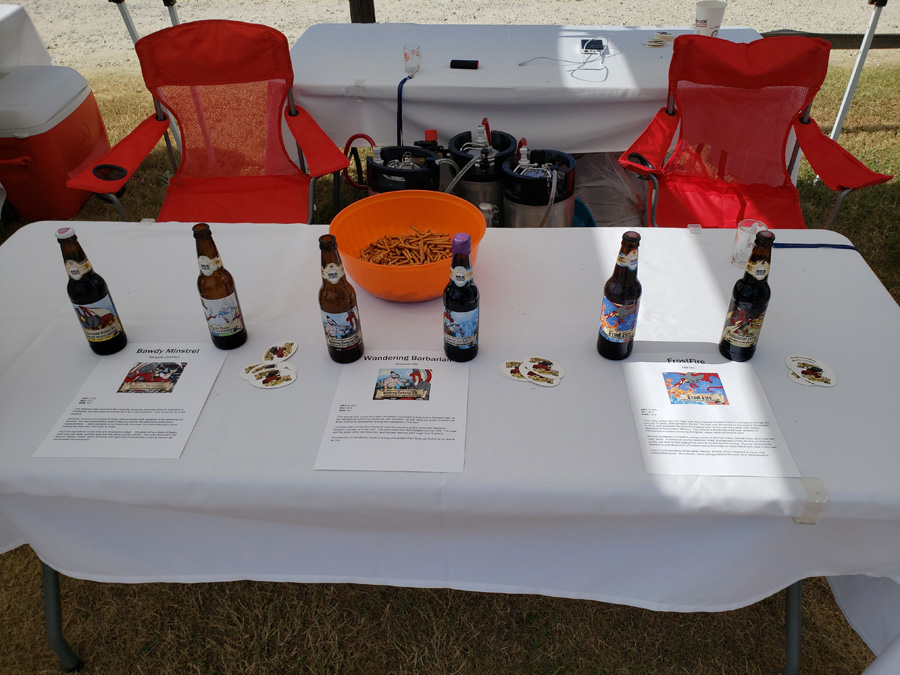 My Oktoberfest serving table.
Meh, whatever. The point was to share my beer and get feedback on it, right?

Saturday came, and I loaded up the car and headed out. Note to future self - full five gallon kegs of beer are not great car riders! I picked Eric up, and we set out on the nearly two and a half hour drive to Auburn.

One thing I need to point out - the Auburn Oktoberfest organizers are top notch. The parking is super convenient, they let you pull your car right up to your tent ahead of time (so as to unload that heavy equipment easily), check in is a breeze, they provide plenty of free ice, include coolers in every tent, have the tents set up for you with a nice sign for your "brewery", with two tables provided and set up. In short, they do literally everything I can think of to make the event as friendly as they can to homebrewers - including the fact that they charge no admission, and even include a souvenir tee shirt!

So Eric and I got everything set up, then we checked out a couple of the other homebrewer tents - including the fact that the "Cranky Yankee" homebrew tent was set up directly next to my own "Confederate Dragon Brewing" tent... there's no way that was a coincidence. Another point to you, Auburn Oktoberfest organizers!
Eric and I in front of my Oktoberfest tent.
I had a few samples from other homebrewers, and was really impressed by some of the beer. Understand, I didn't come to win a homebrewing competition - just to get good feedback on my beer.

And man, did that ever happen.

Over the course of the next four hours, I poured literally hundreds of 1-2 ounce samples. Time and time again, I got to experience a really gratifying reaction - I'd watch as people would taste it, then their eyes would get big and their expression would change before they exclaimed how good it was. I lost track of the glowing compliments, of people asking me where they could buy the beer, of asking me when I was planning to go professional, and the like. I had a couple of business cards given to me - one by a marketing guy, the other by a radio programming director, both of which swore that together, they could help bring attention to my beer (and that it deserved it). The stickers were a hige hit, bythe way.

Possibly the best feedback of all came late in the evening. A gentleman came by my booth, had some really nice things to say. Thinking back, he had a brewery logo on his shirt, but I honestly didn't pay attention at the time.

Right before closing, two ladies paid me a visit. Now, please understand - by this point, I had been on my feet for four hours, had done nothing but pour beer and talk about it to visitors. I had perfected a little spiel to explain the three styles I was offering, to help people figure out what they might like to try. I had not eaten, had not taken a bathroom break, had not sat down for a single moment. So by this point, I was a little foggy, and had gone into autopilot mode.

They mentioned to me that one of their coworkers had told them that they absolutely had to come try the Confederate Dragon beer before the event closed, that they couldn't miss it - and how he was right, how my beer was outstanding, delicious, etc. They were talking to me about how I needed to find a "sugar daddy" to invest in my beer so that I could go pro... and at some point, it hit me that they were both wearing Cahaba Brewing shirts. I had a fairly large "I'm stupid" moment as I realized that I had literally been explaining some utter basics of beer styles to people who brew beer for a living from a popular, well established brewery; I apologized at that realization, but they were extremely gracious, seemed to genuinely enjoy talking beer with me, made me feel completely at ease - even though I'm just a hobby guy.

As I expressed earlier, craft beer people tend to just be awesome.

No, I didn't win the competition (which was a popular vote thing). As a matter of fact, none of the really good beers won; the tent that was the most decorated - but that had some very okay beers - won it all. Meh, whatever.

As I have said, I went for one real reason - to get some feedback on my beers, and to have fun talking beer. I absolutely got all of that in spades. I am really glad that I went.

Oh, and as a footnote for beer people: Donna was right; my Märzen - a beer that I was afraid would be too dark and heavy for popular enjoyment - turned out to be the favorite of the beers that I brought, and it wasn't even close. The Kentucky Common, which I had such trouble with, also ended up doing really well. Everyone who tried the IPA seemed to enjoy it, but to my surprise, it was the least popular of the beers.
Tags for this post: Hobbies
Permalink
Please share this post!




If you enjoy HomeBrew Dad, please support the site by using my Amazon affiliate link when doing any shopping there. All prices are exactly the same, but HomeBrew Dad will receive a commission on your purchases. Thanks!
Comments for this Post